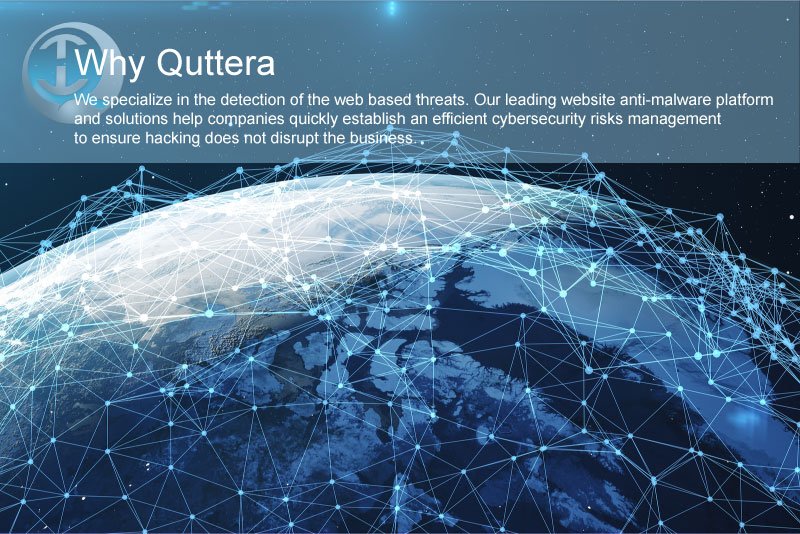 Quttera is a cybersecurity software and services company that delivers a technology platform and solutions to help organizations monitor and protect their web assets from malware. We specialize on detection of web based security threats: exploits, trojans, worms, shell-codes and other kinds of malicious software.
Quttera provides Website Security Solutions for Small&Medium Businesses, Small&Medium Enterprises and Organizations. Quttera technology helps companies to quickly establish the efficient cybersecurity risk management to ensure hacking does not disrupt the business. Quttera scanning and malware detection capabilities have become a brand in the security industry. We help search engine providers and security vendors to improve the domain/URL safety scoring to make the internet a safer place.
The software, tools, scanning solutions and malware removal framework have been designed for ease of use without compromising functionality. We provide corporate-strength protection against constantly changing landscape of web malware, including viruses, trojans, spyware, phishing and hacking attacks. We develop and build a cutting age, non-signature based and heuristic technology to identify malicious web content. This patented technology is able to leverage Artificial Intelligence in order to detect anomalies, unknown and previously unseen malware.
We have been testing our algorithms for more than 12 years now, sharpening them and expanding the functional characteristics to detect unknown malware bits. Our online scanners are constantly crawling the Internet and process approx. 150k websites and millions of URLs monthly, generating security reports with detailed detection breakdown.
Quttera has become widely recognized as one of the global leaders in protecting website owners and all who are vulnerable to malicious hacker attacks. Our mission is to build a platform that is always up to date with the new threats and requires a minimum human involvement.
Case Studies
Resources
---
POC examples
Testing of Malware Detection (Vulnerability Exploit and Payload) (from Quttera R&D BLOG)
Blog posts on Malicious Javascript detection (from Quttera R&D BLOG)
Blog posts on Malicious Ransomware detection (from Quttera R&D BLOG)
Blog posts on website hacking detection & cleanup (from Quttera R&D BLOG)

Datasheets
Annual Website Malware Report | 2016 (PDF, 723 KB)
Quttera investigation engine added value and user benefits&nbsp(PDF, 413 KB)
May 2014 Top Ten Online Malware Report&nbsp(PDF, 373 KB)

Videos
ThreatSign! Website Anti-Malware
&nbsp(YouTube video, 1:03)
How to scan a website/ URL with Quttera FREE online URL scanner
&nbsp(YouTube video, 1:40)